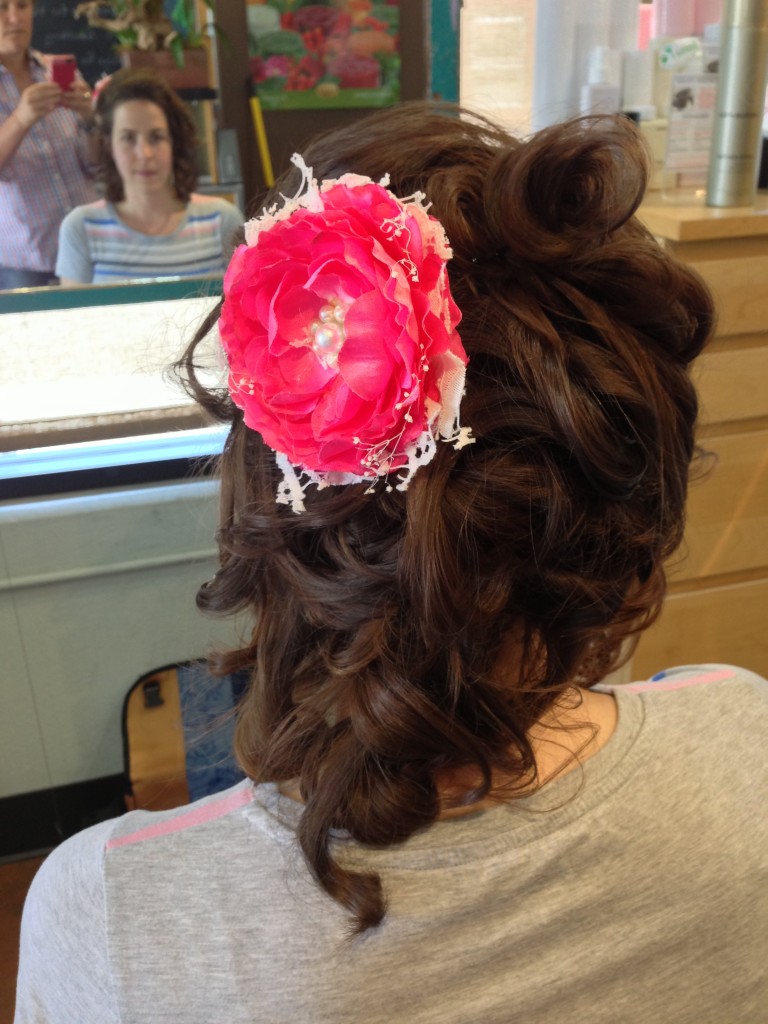 I don't style my hair or wear makeup on the regular. Once in a while (for special occasions), I'll blow-dry my hair (and I get annoyed when it takes more than 5 minutes) and haphazardly spritz some hairspray. On really special occasions, I'll dust on some sheer powder, curl my eyelashes with the same curler I've had for almost a decade, and put on some mascara that's probably crusty and well past its expiration date. While I have the utmost respect for women who put real effort into their hair and makeup, I just don't have the patience for it.
So, when I say that I just finished a weekend that contained visits to both a hair salon AND a giant cosmetics store to get the full, dolled-up treatment, you might understand how unusual that is. The purpose of both these visits, aside from finding out just how little I know about basic beauty routines, was to be prepared for August 17th – since, while I don't incorporate hair/makeup practices on a daily basis, I understand the importance of looking particularly nice on your own wedding day.
I started with a trip to 17 Jewels in Oakland on Saturday for a trial run. I picked the location because it's a short distance from the Emeryville hotel where we'll be staying and getting ready for the wedding, and it turned out to be a lovely space in Oakland's thriving Temescal neighborhood. Since I'm the bride (bridezilla! . . . or not), the salon booked me with the owner, Julie, and she could not have been nicer or easier to work with. She looked at some photos of hairstyles that I'd pinned on Pinterest (side note: I sort of hate Pinterest, but have actually found it helpful for certain wedding inspiration) and knew immediately how to guide me and create something that I'd love. And I loved it! It was so fun just to see my hair do, well, anything, for once.
And today, I braved the Union Square hullabaloo to visit Sephora with my dear friend and bridesmaid Allie to do a makeup consultation. To be totally fair, I'm more freaked out by makeup than hair styling. Anything beyond the basic application of moisturizer/powder/mascara has always felt foreign on my face, and the last thing I wanted was to be totally overdone and look completely unnatural on my wedding day. Thankfully, the reps at Sephora listened intently to my needs and concerns, and did up my makeup in a way that elevated my look while remaining relatively subtle. There may be one or two things I will change, but overall, I feel pretty darn good about having the Sephora folks in Emeryville (conveniently within walking distance of the hotel) do my makeup for the wedding.
Next on the blogging trajectory: Visitor's Guide! Karaoke Guide! The Hitchhiker's Guide to Galaxy! (one out of those three will not actually be featured on this blog – I'll let you guess which one.)